The meridians of acupuncture

Under this page I have assembled maps of all the meridians of Chinese acupuncture. These include the 12 main meridians plus their inner pathways and the 8 extra meridians. Maps showing body areas such as head or legs are also included in order to focus directly on an anatomical region rather than on a whole meridian.

You may also link to my free web-based acupoints database where you can look up a specific point and its clinical applications or a specific symptom or disease. In this database, you can also find many useful point combinations for the treatment of various ailments.

Please use the hyperlinks below to navigate.

Read more about the meridians of energy, and learn how to use them and the acu-points for your own health, in the book: Chopsticks Acupuncture, by Dr. Shmuel Halevi. Click the book's image to learn more.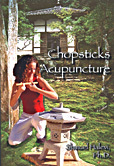 Link to Dr. Halevi's homepage.